Manufacturers of Polymer Composite Resin Technology
Latest News
Ongoing projects and industry news
News Update – August 2023
EPIGEN 806MG & EPIGEN 806BR CASE STUDY
Location: Chainat Province ,Thailand
The Project: Rebuild & Coating of Heat Exchanger
The heat exchanger is damaged from cleaning by acid. The surface is corroded from Acid. The media for this exchanger is Sodium Nitrate Fluid. Operating Temperature is -4 deg Celsius.
Customer needs to repair after the cleaning process. So after cleaning and preparing the surface, rebuild of the corroded and pitted surfaces with Epigen 806MG commenced, followed by a final top coat using Epigen 806BR for protecting the surface of the heat exchanger.
Surface Pro-Tech Co., Ltd
T: 662 692 4446-9 | Fax: 662 247 2241
service@surfaceprotech.com
---
News Update – June 2023
EPIGEN CHEMPROOF 4029 CASE STUDY
Location: Barrick, New Guinea – Porgera JV Gold Mine, Papua New Guinea
The Project: Two Filament Wound FRP Carbon Wash Tanks – Installed Circa 1990
These tanks had some severe internal wear and damage that had been previously repaired. The inlet/outlet stubs had been replaced with SS. The corrosion barrier on the internal surface was largely missing.
Although the tanks operate with a Hydrochloric Acid concentration of around 2%, the initial charge of Hydrochloric Acid is at full concentration (30%) and therefore the corrosion barrier needs to be able to resist this in service.
Re-lining the interior with Vinyl Ester (OME SPEC) was ruled out as an elevated temperature post cure could not be performed.
Epigen Chemproof 4029 was first used over 10 years ago in 2013 and has stood up extremely well. Epigen Chemproof 4029 was chosen for its excellent resistance to concentrated Hydrochloric Acid and ease of application, as well as the ability to achieve high film DFT per coat.
Surface preparation was abrasive blasting with fine Garnet removing all loose material and provided an excellent key for the Epigen Chemproof 4029 to adhere to.
Surface area per tank was approximately 52 square metres. The Epigen Chemproof 4029 was applied by roller in 2 coats, with a minimum 12 hours between coats, so the first coat could be walked on without damaging it during application of the second coat. The completed tanks stand for at least 92 hours prior to being returned to service.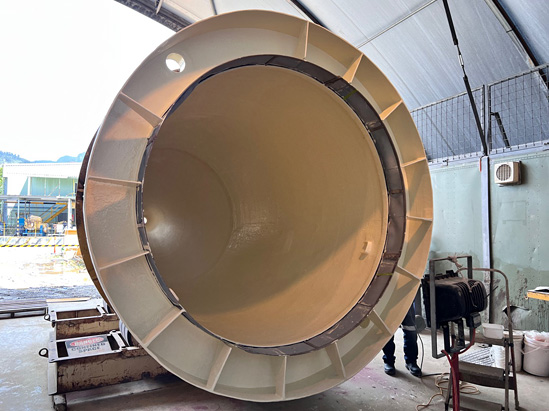 Thanks to Jeremy Heming from WRM Queensland for authoring this article.
+61 418 783 732
wrm@wrm.id.au
www.wrm.id.au
---
News Update – December 2022
Peerless Industrial Systems had its birth in Perth in 1970 with the tradename Epigen being its manufactured product. One of the first companies it supported was Mt Newman Mining Company. It could be Mt Newman Mining was the reason for its foundation since the very first product Peerless produced was Epigen 301, a crusher backing grout. Given the first ore sailed from Port Hedland in 1969, suggestion that Mt Newman Mining was responsible for Western Australia's greatest ever industrial services buildup carries some weight. Epigen 301 was in use at Port Hedland in their crushing shop according to archives from 1970 until about 2012 when the satellite mines took over crushing activities and subcontractors moved in. Today, Mt Newman is known as BHP Iron Ore, the Big Australian.
The BIG Australian has grown immensely to have many sites with Yandi being Australia's biggest single Iron Ore mine, producing some 80 million tonnes per annum.
From the early days supporting crusher operations, Epigen has found its way into many more applications including abrasion resistance to protect reclaimers and their ladders, corrosion protection, and even structural concrete repair.
(Pic 1) Bucket Wheel with Epigen 3773. (Pic 2) Ladder coated with Epigen XD001BR on its way to mining site.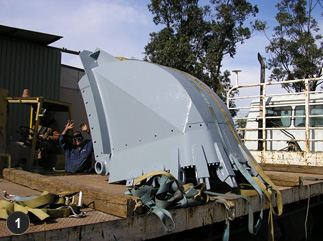 (Pic 1) Bucket lined with Epigen XD001BR. (Pic 2) Crusher Mantle Epigen 301 pour in the late 70's.
If you would like further details on Epigen 1311 and its applications, contact Daniel Leeming on +61 (0)8 9477 3788 or service@peerlessindustrialsystems.com
---
Amongst the many service companies in the North West, Monadelphous Engineering was established in 1972 and has diversified from its original focus in Kalgoorlie to have a significant stake in supporting all mining companies from Iron Ore to Salt, and the Big Australian, BHP. Many needs cannot be planned and the importance of having a multidisciplinary construction, maintenance and industrial services organisation to deliver "whatever the Big Australian" wants is paramount. Recent work in Ore processing continues to bring Peerless and Monadelphous together for the Big Australian. With locally made product, EPIGEN.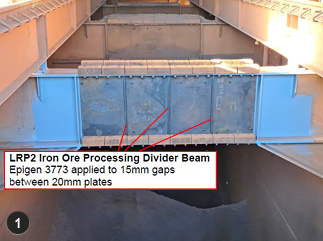 (Pic 1) Epigen 3773 filling gaps between Bisalloy beams in ore handling. (Pic 2) Stacker structural portal leg protected with Epigen XD001BR.
For Monadelphous Engineering, best point of contact is:
Jarod Peacock
Project Co-ordinator
JPeacock@monadel.com.au
---
News Update – September 2022
WA miners often have to seek construction of equipment but it was especially necessary during the recent lockdown in Australia due to a global pandemic. The yards in China are known for their ability to build big and it was the Modern Heavy Industries (MDHI) company close by Shanghai that was tasked the job to construct a number of surge bins for Australian miners. The preferred internal lining proven over many years of service was Epigen 1311. It comes as no surprise the Australian made product was not going to be substituted on such an important job, certainly not after having history of performance and integrity that dates back to the 1970's. Interesting to note Epigen 1311 is solventless, has been since its inception long before the industry came out in force during the 1990's claiming new and brilliant solventless new technology was available. Epigen – ahead of its time.
The surge bins under construction.
Australians, through considerable difficulty, navigated the pandemic and border lockdowns to qualify the coatings work with the NZ Queenslander, Gary Abbott, doing extraordinary work during extraordinary times to confirm everything worked out really well. At the end of his time in China, Gary said he was very happy the staff at MDHI with a skillset and understanding of QA/QC that will only help them secure further work in the future.
Happy crew posing in front of a job well done.
If you would like further details on Epigen 1311 and its applications, contact Daniel Leeming on +61 (0)8 9477 3788 or service@peerlessindustrialsystems.com
More information on the Epigen 1311 can be found at https://epigen.com.au/Techdata/1311.pdf
---
News Update – June 2022
When Tronox WA had the requirement to replace a stack recently, it was great they decided to use Epigen XD001BR as the internal lining to protect the asset from corrosion and abrasion. The selection of Taylors Engineering in Henderson turned out to be a great decision since Taylors developed a system of installation from scratch, setting up a rotary spinner that allowed the long lengths involved to be coated. The workup included having lengths of identical diameter pipe and verifying the application rates, DFT and integrity thereafter.
(Pic 1) Inspecting the trials after application – perfect. (Pic 2) Developing a system that provided reliable results did require many hours of review, it is not that the task was difficult; it was Taylor Engineering addressing the proper QA/QC verification before the job even started.
More information on the Epigen XD001BR can be found at https://epigen.com.au/Techdata/XD001BR.pdf
For Taylor Engineering, contact Mark Demeza
T: 08 9410 2262 | M: 0407 197 225
mark.demeza@taylorsengineering.com.au
---
News Update – March 2022
Starboard Products, a family business owned by the legendry sailing family of Bethwaites during the 1990's began their relationship with Epigen following some interaction with Frank Bethwaite, probably considered by many to be the professor of sailing. Julian Bethwaite was regarded as the junior professor and was instrumental in developing new systems in the 18 foot skiff class, inventing would be the appropriate term. Epigen Boatex became the nominated resin of construction.
Always active in looking for the advancement to purity in sailing, Frank and Julian began development of a new generation of skiff, the 49er as a class for the 2000 Olympics in Sydney. History shows us the 49er was adopted in 2000 as a class and still exists as the most exciting boat in today's Olympics.
Julian however has never stopped his fine sense for pushing the envelope and be it the pickle fork or sports boat, Epigen is still never too far away from his projects and ambitions.
(Pic 1) Julian in his 18ft on Sydney Harbour. (Pic 2) Fitting out an 18, almost surgery.
Frank Bethwaite – fitting out a Tasar.
(Pic 1) 49er, became the premier class in the Sydney 2000 Olympics. (Pic 2) Julian with his latest project – the 89er.
The 89er taking shape.
Julian – always thinking, see more at: https://forums.sailinganarchy.com/index.php?/topic/229304-89er/page/5/#comments
---
News Update – January 2022
Our intrepid Technical Director, Nick Subotsch found his way on several occasions to the USA in 2021 and in December 2021 proudly caught up with those he sincerely refers to as life long friends. Daniel Dunmire and his lovely wife Susan put on a feast, Daniel was the Director for DoD Corrosion Policy Oversight Office in Washington until late 2018 and Nick was referred to by Daniel as his Australian Allied Nations Technical Delegate. In attendance, George Keller, Larry Lee, Donna & Larry Poulson. George was considered Daniels right hand technical and policy writer (and on many occasions delivered for Daniel) and Donna some would refer to as the most important person at DoD CPO. Bo was also in attendance, the Dunmires very sociable dog.
George Keller is writing his memoirs on his journey through DoD CPO, from his first meetings with the 3 Ruskateers through to retirement – if there exists such a thing. Should make very interesting reading.
Left to right: George Keller, Daniel Dunmire, Larry Poulson, Susan Dunmire (with Bo), Donna Poulson and Larry Lee.
Nick Subotsch centre wearing red, could not escape Susan Dunmire and her expectation he make the photo gallery.
---
News Update – September 2021
The global supply of many materials is in disarray. The resin business is caught up in significant shipping delays of raw materials, when you can be sure you can get them. In some cases availability of key raw materials has hit an all time low.
Peerless Industrial Systems Pty Ltd has carefully strategized supply and shipping options. Daniel Leeming, Operations Director based in Perth has been instrumental in dictating direction and strategy to ensure everyone no matter where they are, have access to product. Daniel said that in August, product supply in Australia was supplemented by exports to West Africa (Burkina Fasio), India, Thailand, Indonesia, China, New Zealand, and Singapore.
---
News Update – May 2021
Great pleasure to announce the formation of "PEP LLC" in the USA. Registered in Michigan, PEP LLC, short for Peerless Epigen Prolong LLC is the conduit and USA Management point for the development of interests for locally owned and operated manufacturing in the Americas serving the local markets. Nick Subotsch has been active in developing a plan that would see the Australian operations templated in the USA, a very strong move that provides the local market a wonderful opportunity to create jobs and solutions based on the 51 years the business has been operating in Australia.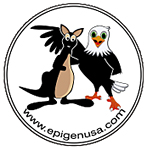 Need to know more? Contact Brett Irick on +1 313 207 3562
Or Nick Subotsch by email: nick@epigen.com.au
www.epigenusa.com
---
News Update – February 2021
Surface Pro-Tech Co., Ltd
Team Bangkok – special photo shoot for CNY 2021. HAPPY NEW YEAR from all the team at Surface Pro-Tech. Distributors for Peerless in Thailand.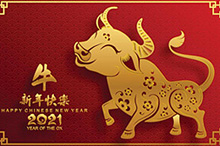 ---
News Update – December 2020
2020 – Looking back on our Foundation
Peerless Operations first commenced in 1947, the focus on wax emulsions. Through the 50's Peerless became the leader in janitorial chemicals breaking new ground and records. Duraglo Floor Wax was the leader in the field replacing solvent based waxes with safe and easy to use water based wax.
As time continues on, recalling or archiving history becomes difficult. With modern technology it is simply a matter of posting it online. The photograph below records the 4 men that came to bring Epigen to the world in 1970. Left to right, Mike Joseph (Group General Manager), Wallace Jones (co-owner and Director), William King (co-owner and Managing Director), and Geoff Barkla (Western Australian State Manager and probably the man with the plan).
---
News Update – October 2020
2020 – Time for that once in a lifetime face lift, PCS provides Collie Power Station with just that
Pictures speak louder than words and so when PCS mobilized to refurbish the floor of the Collie Power Station turbine room floor, the experience they have had with the Epigen 2816 left no one in doubt what was required. 450 square metres of slab, 750mm thick and heavily reinforced. We don't go into the engineering detail of precisely what had been done suffice to say the result was "as good as it gets".
Cracks and other imperfections required special attention.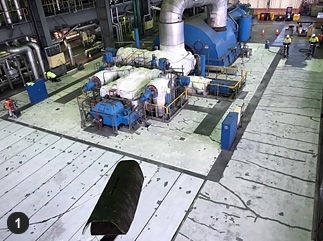 (Pic 1) Turbine floor early in the refurbishment. (Pic 2) All finished and looking FANTASTIC!
Product link: https://epigen.com.au/Techdata/2816.pdf
---
News Update – September 2020
Geographe Engineering go for something special
Many believe glossy smooth floors are the territory of pharmaceutical companies, television studios and clean rooms. Engineering is not simply oil, grease and metal shavings. As the works come together the expectation of cleanliness also develops to ensure the final parts as prepared are not contaminated or soiled in any way. Whether it is final packing or inspection, Epigen 2917 has become a common flooring in workshops, demonstrating real quality exists in Western Australian Engineering.
There comes a time when it is decided a floor needs to reflect the special purpose it services.
Quality exit for all the engineered products here –
Product link: https://epigen.com.au/Techdata/2917.pdf
---
News Update – July 2020
50 Year Celebration – not the year we expected
As we move into the second half of 2020, it is apparent the social freedoms we once had will not be with us for some time as a result of the struggle with the global pandemic known as Covid-19. In the absence of being able to implement a true celebration for the 50th year of Epigen, we are pleased to provide this acknowledgement of the efforts and dedication of those that have made, and continue to show strength and a difference in the local ASEAN region.
Your support and continued service to industry and our products is appreciated. Best wishes and may we continue healthy, prosperous and blessed.
PT Agape Trikarsa Libratama Indonesia (Since 1995): Boniacious Triyono (right) first visited Peerless in Perth with his Principal Ichsan Hidajat in 1995 and what followed was a significant contribution to support and growth in Indonesia. Today the relationship continues. President Director Agung Nugroho (left) during one of the visits in the 90's.
Surface Pro-Tech Co Thailand (Since 1997): Karnchai Pruksanubal (front with yellow tie) has maintained a long history with Australian industry and it was extremely fortuitous that his company took the steps to associate with Peerless nearly 25 years ago. During numerous visits, Nick Subotsch (front with white shirt) has conducted many technical presentations, training engagements and has praised the professional approach to solving customer problems first.
Always a pleasure to visit and the hospitality is without peer. Today the relationship continues with Khadkhanin Athornpattana maintaining the leadership and interface with customers and Peerless.
To bypass long names, translations offer a simple introduction. The Thai Trio (left to right) is Joy, Karnchai and Aew.
Flakecoat Technology Singapore (Since 2002): Derek Rodrigues (pictured) has been one of the region's movers and shakers from his production and repair facility in Tuas. Always a jovial and accommodating host, he has a wonderful operation based on first class workmanship backed up by one of the best QA/QC systems and can track every job with amazing accuracy. Derek continues to build the business always looking for the innovations and benefits that will support his customers.
---
News Update – June 2020
Welcome to ACMS as the stockist and representative of Peerless Product in the USA
ACMS in Indiana has taken on the representation of Peerless Epigen, Prolong and KIS for North America. It was May 2020 the first container of product landed in Indiana and our Technical Director Nick Subotsch visited to support counting and sorting through the stock. The week culminated in product review, and it was Ryan Bilik that took centre stage demonstrating the use of many of the products.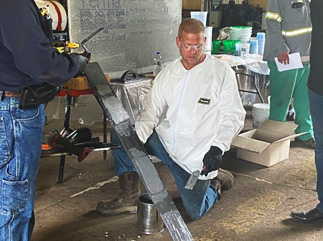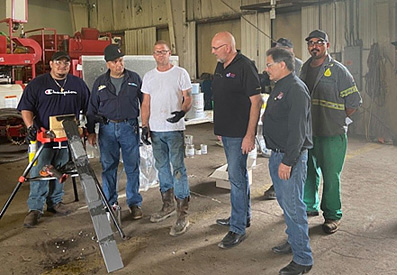 Contact: http://www.acmsgroup.com/contact-us
815 N McCool Road (6,557.62 mi)
Valparaiso, Indiana 46385
Phone: +1 (219) 662-2380
---
News Update – February 2020
Continued Development of the Phoenix family of products
It has been a long time since Peerless first released Epigen XR367 Phoenix, designed to repair damaged concrete in Aluminium Smelters. The damage to floors from spillages of molten aluminium created serious safety risk and the solution was met with great applause.
https://epigen.com.au/Techdata/Phoenix_XR367
Subsequent work to understand more about our newly acquired technology resulted in toying with version inspired through the problems we came to hear about from industry. The development of a deck coating arose from comments in the USA about the difficulty in retaining deck coating integrity from jet blast, and specifically from the F35 during vertical lift and landing. The name TOPGUN was quickly assigned and now that material is being looked at for the oil and gas industry, nonslip safety coating that can be applied in one application and unaffected in the event of a fire.
XD Phoenix testing
Subsequently, applications in gas fired power station exhaust stacks came into vision. Failed internal refractory lining would take months to strip out and replace. Work on Epigen Phoenix Ultra has resulted in a material that can be sprayed directly over the damaged refractory and steel surfaces providing the protection in several weeks. Although the temperatures are well below 1000 Celsius, much of our assessment has been with direct flame considering fire will be the worst possible case. MAP flame at 1900 Celsius certainly tested the integrity of our Phoenix.
XD Phoenix Ultra testing
---
News Update – December 2019
Heavy Duty Abrasion Resistance
As we move into 2020, the success over 20 years is providing the confidence to our mining community in the use of some of our more robust ceramic composites. Epigen XD001BR has proven itself over these many years as a reliable coatings system dealing with abrasive iron ore and the high temperatures experienced on assets from the hot sun in the North West of Western Australia.
The DFT is nominally 1000 micron as a minimum. Due to the high loading of ceramic, it is not expected to achieve a high aesthetic gloss, a highly functional performance coating is the criteria.
https://epigen.com.au/Techdata/XD001BR.pdf
The Epigen XD001BR has been sprayed by airless in spite of the product being designed to be applied by brush or trowel. 70:1 airless, direct immersion, ½" lines and avoidance of complex equipment such as expensive plural machines for greater productivity with a reduction in labour.
---
News Update – September 2019
2020 is just around the corner – milestone to be recognised
Already three quarters of the way through 2019 and many look to Christmas, or New Year events to celebrate.
Peerless Group commenced operations in 1947, in wax emulsion technology. At the time, the cutting edge on various products – water based. In 1970, the Peerless Industrial Systems division was formed to add diversity in the Group activities in the mining sector.
Today Peerless Industrial Systems is a standalone entity and in 2020 celebrates 50 years of Epigen.
We take this moment to thank everyone that has been involved in our journey. Staff, contractors, specifiers, consultants, and in particular the owners and the market place that have been wonderful in supporting our business, and allowing us to provide our unique brand of solutions to support you.
---
News Update – July 2019
Outgassing and avoiding the likelihood to save time and money
Work in open air on concrete can result in some difficulty with outgassing that is commonly overlooked. Cleanaway, when carrying out work with Epigen for Cedar Grove Treatment Plant (Logan Shire) had the foresight to erect covers over the work area to ensure the applied product did not give rise to excessive exotherm from the hot sun.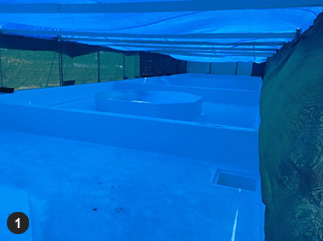 (Pic 1) Tarpaulin erected over the work area prior to coatings installation. (Pic 2) Completed Epigen coating with tanks installed.
If the environment is conducive to outgassing, that is heat and direct sun on the work area, and the concrete has any porosity, the chances of outgassing is high. It is not a simple matter of priming since the application of any high DFT will result in the product exotherming and causing the air in underlying voids in the concrete to expand to the point that eruptions in the coating will occur.
Several different techniques exist to minimize outgassing, Peerless Industrial Systems is always available to support discussion and review processes to avert outgassing that can add huge costs and time to a project.
Contact: service@peerlessindustrialsystems.com
---
News Update – May 2019
Epigen builds its support into the USA
Long established in Asia, the Middle East, and Europe, the last few years has seen greater collaboration with product finding its way into the USA on a regular basis.
One such project involved Detroit based USI undertaking rebuild of badly damaged floor joints at the Michigan Lions Stadium, Ford Field. Epigen 301 and its long history in providing reliable strength and support in a variety of applications was the product "fit for purpose".
Epigen is now finding its way into many other states of the USA with expectation the style of business in supporting the outcome for the owner by understanding what they need, and focusing on the pathway to a successful outcome will set a standard that others will appreciate and partner.
(Pic 1) A common occurrence on joints under load. (Pic 2) Recessing the aris of the joints to create a new high strength shoulder.
(Pic 1) Tape either side provides an edge when the Epigen 301 is poured. (Pic 2) Tape removed and a fine grind to ensure transitions are true.
The Epigen brand was created in 1970. Epigen 301 was the first product to be developed and to this day remains as originally designed, standing the test of time.
https://epigen.com.au/Techdata/0301.pdf
---
News Update – March 2019
Melbourne Water Sedimentation Tanks – Epigen 1311Ultra
In November 2018, Freyssinet Australia embarked on the relining of 2 sedimentation tanks for Melbourne Water Eastern Treatment Plant. Epigen 1311Ultra was nominated in the lead up to provide the protection, improving the chances for a rapid turn around. Weather played havoc with the work leading into Christmas however the issues with recoat windows did not present and meeting schedule was achieved allowing associated services and trades to complete other work under the contract.
Work under way in December 2013.
Lining the second sedimentation tank commenced in March of 2019, and was completed in less than 2 weeks. It proved up the worth of the Epigen 1311Ultra, designed to be installed quickly reducing the risk associated with multiple coat applications, contamination, weather, and recoat windows.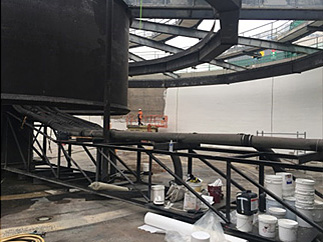 Midway through the second tank, productivity at an all-time high.
Completed in record time.
https://epigen.com.au/Techdata/1311ULTRA.pdf
The use of a 70:1 airless, direct immersion, small footprint and avoidance of complex equipment such as expensive plural machines makes a big difference and can in fact have greater productivity with a reduction in labour.
---
News Update – January 2019
Peerless Industrial Systems has been a proud sponsor of Phoenix Beeliar Junior Cricket Club since it started back in 2014. During this time the club has grown from 8 players to over 150 players. During the 2018/19 season the club has 5 teams playing junior competition cricket (Under 10's, 11's & 12's) not to mention over 100 participants in the Cricket Blast program for 5 – 8 year olds.
Given the rapid growth of the Phoenix Beeliar Junior Cricket Club we are always in need of new equipment and club apparel. None of this would be possible without the support of our Peerless Industrial Systems.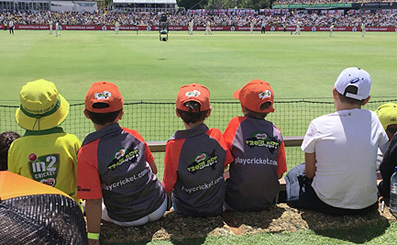 Some of our players were lucky enough to visit the WACA and play on the ground during the innings break and stay to watch the Aussie cricket team in full swing.
---
News Update – November 2018
We would like to acknowledge in 2018, the relationship between Peerless Industrial Systems and Safe & Reinforcement. Way back in 1978, Per Ageland began representing Peerless and the Epigen product in Europe with focus in Scandanavia.
Today, Regula Ageland continues the business from her home in Switzerland, with activity into various parts of Europe for mining, mineral processing and dredging.
A little fun with the graphic arts department (Ivan) during a photo session in Switzerland.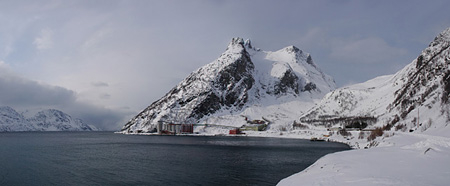 Epigen can find its way into all sorts of interesting locations.
---
News Update – September 2018
New DFO – Perth Airport
Construction of a new DFO – Direct Factory Outlet – in the Perth Airport Precinct provides fantastic shopping opportunities for everyone. Popping up all over Australia, these centres provide a continued new concept store that has been a feature around the USA for many years.
Recessed floor ducting carrying cabling was one of the last fixtures to be installed and selecting an appropriate material to backfill called for a high strength epoxy. Epigen 907 was used in filling the recesses, excellent adhesion and strength with zero rework.
https://epigen.com.au/Techdata/0907.pdf
The recesses were up to 50mm deep and 35mm wide.
---
News Update – June 2018
CONGRATULATIONS FLAKECOAT SINGAPORE ON THE 25 YEAR MILESTONE, providing first class corrosion protection and maintenance
Established in 1993 to provide protection and refurbishment of various equipment in industries such as marine & offshore, oil & gas, power generation and water, Derek Rodriques and Jimmy Tan have been the business stalwarts and industry super stars with Flakecoat since it began.
The association with Epigen can be traced back several decades making Flakecoat one of the most experienced contractors in the region.
Peerless Industrial Systems Pty Ltd is proud to support Flakecoat and the local industry.
http://www.flakecoat.com/Epoxy_Products.html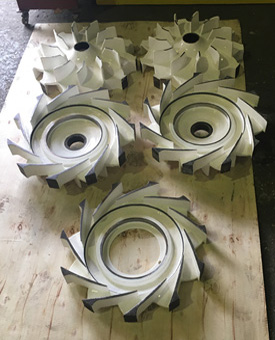 Equipment lined with Epigen 1311.
https://epigen.com.au/Techdata/1311.pdf
---
News Update – March 2018
EPIGEN providing protection for Petronas that will provide long term integrity for the Rapid Project in Pengerang
The Pengerang Integrated Project will be one of the world's largest refinery and petrochemical complexes when complete. Located in Johor Malaysia, it will have potential to take Petronas into the World's Top 10 oil and gas companies.
At the time of writing, the application of Epigen Chemproof to protect various concrete assets against Sulphuric Acid was nearing completion. The review, planning and implementation was handled by Kevin Chue and his team at Creative Enchitect (M) Sdn Bhd.
Prior inspection to scope out the requirements was critical.
Work was often carried out at night, access was difficult in places, and weather always making work tough.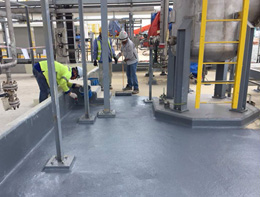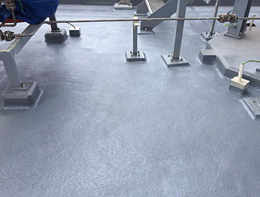 Regardless of the difficulties, the work continued with a great outcome.
---
News Update – January 2018
EPIGEN is not only for heavy industry
It would not be difficult to think Epigen stands for industrial applications. Many products are used in commercial or domestic applications.
Epigen 2816CL (clear) had its origin as a coating for Jarrah Burls in furniture such as clocks and tables. Over the years it has been used in the "arty" applications as the finish and in high quality flooring.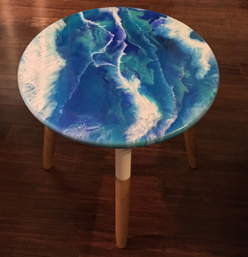 Furniture built with the artists talent, finished in Epigen.
We are involved in a wide variety of applications and welcome enquiries at any level to discuss your applications
Toecutter, 2003 Sydney Hobart placed 2nd – and made strong with Epigen Boatex.
---
News Update – November 2017
Top quality products can be used with total disregard for their primarily developed purpose with innovative thinking and comprehension of a products properties.
Epigen 301 was developed in nearly 50 years ago as a crusher backing and is used as a grout under equipment, foundations, chemical anchoring, even to grout underwater.
It therefore comes as no surprise that a contractor has adapted it as a pile wrap in Irian Jaya using fibreglass as the support fabric. The work being carried out does not have the benefit of ideal conditions nor world class equipment on hand so the way in which the Epigen 301 is being used although uncommon is unique in the manner industrious and very clever locals have carried out the pile protection.
Having world class standards and facilities can often give way to the reality of the location – and a great product can be all the difference.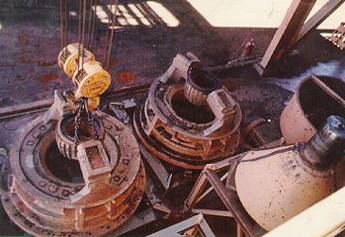 Epigen 301 designed as a crusher backing nearly 50 years ago and still the standard today.
Innovation locals in Irian Jaya making the best of a tough job – corrosion protection of piles.
---
News Update – August 2017
August proved to be a very heavy month for our Technical Director Nick Subotsch. He took time out of his normal duties to attend an event in Birmingham Alabama – the DoD CPO Allied Nations Conference.
Following on from his attendance at a conference in Tampa Florida, Nick was asked to attend and contribute as a part of the Australian Allies.
It seems he has come away from the event with a personal interest for creating increased collaboration in the area of corrosion mitigation and is taking time off to do so.
Best of luck Nick, it is not everyone that believes in a united front against corrosion and preservation of the assets to keep those who serve safer.
Nick with the Director Dan Dunmire (DoD CPO) and Dan's right hand man George Keller.
We never pictured Nick in a role like this.
See www.facebook.com/corrdefense for more information and updates, keep smiling.
---
News Update – May 2017
Epigen 1311Ultra has been the saviour in many a fight against corrosion. A sea wall in Fremantle was a tough job under tidal movements, and the concerns for environment. Daniel Leeming worked with a local marine engineering company and their contractor to provide a superb example of corrosion mitigation between tides and without coffer damming the work area.
Preparation was always going to be tough but that and the installation was in the hands of the contractor. So long as the Epigen 1311Ultra could be applied over the worst of surfaces the mission would be a success. Daniel Leeming made note of the many challenges for all those involved but at the end of the day the outcome aimed at was achieved.
In practice, there is always a lot to consider with ITP's, weather, scope, equipment capability and all manner of other liabilities that have to be considered. Epigen 1311Ultra came through Ace's and the potential for marine facilities all over the world to have their corrosion mitigated and the assets preserved is the simple lesson that came out of this exercise.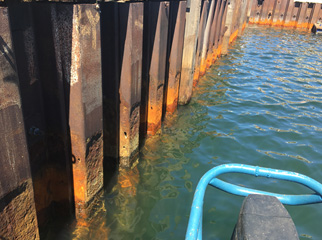 A very bad substrate, is it possible to be protected? No problem, Epigen can fix it.
---
News Update – March 2017
Epigen Phoenix XR367 – Test requirements to be carried for use as an adhesive for ceramic tiles to be installed in a kiln operating at extremely high temperatures was a quandary. No standard could be identified for evaluation = what to do?
In-house evaluation in the absence of a certified standard had to take on thinking outside mainstream considerations and Kevin Cook came up with a novel setup. Bonding a ceramic tile onto a steel frame. He was able to get the temperature over 450 degrees Celsius with the resin still holding and no smoke or smouldering. It could have handled a higher temperature however this was the maximum he could achieve with his equipment. The evaluation set a temperature well in excess of 450 degrees C.
The Epigen Phoenix XR367 held the cast iron weight in place with no problems. The cast iron weight was used to provide a positive load. Kevin Cook said "I knocked it out with a hammer after the experiment to have a look at the product. That in itself was a huge task that did not come easy. A little scorching but overall an excellent result."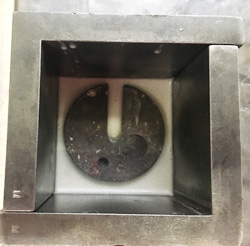 Cast Iron Weight set in place with Epigen Phoenix XR367, and application of heat using live flame.
Temperature in excess of 450 Celsius and no failure or loss of integrity.
---
News Update – December 2016
How many wraps can be applied to a T Piece pipe junction?
Only KIS can be stretched around the entire fitting for a snug fit without bubbles and folds.
Preserving Perfect Integrity.
---
News Update – November 2016
Epigen 1311Ultra continues to develop a wonderful opportunity for the asset owner in rapid restoration. In this instance, the work carried out in Geelong was completed professionally and without delay or issue due to a very professional approach by the contractor.
Preparation to remove all foreign material and damaged concrete was followed by spray to complete the protection in the one application.
Congratulations to Mac Coatings – maintaining a high standard in everything they do.
---
News Update – October 2016
Fourteen years of service – 301MRD still going strong
EPIGEN 301MRD has given fourteen years excellent service life to timber piling, as shown in the photograph below. The 301MRD was originally installed in 2002. As well as corrosion protection, 301 MRD is first-rate for rebuilding and repairing damaged pilings. Similar performance can be achieved with steel and concrete substrates.
EPIGEN 301 MRD protecting wharves, in this instance, holding up a major road bridge in one of Perth's busiest crossings for more than 14 years. (Photo September 2016).
Download

PDF
---
News Update – May 2016
Daniel Leeming, Operations Manager at Peerless Industrial Systems
Daniel Leeming leads the Peerless production team delivering Epigen and KIS across the globe. His broad range of technical and management skills ensures that Peerless manufactures and reliably delivers quality products to customers.
Daniel's strong capabilities in team and project management across many industries including construction, automotive and mining, when combined with his 'can do' attitude assure excellent service for Peerless customers. His experience over many years, in such diverse competences such as blending, composites technology, CMMS, quality and inventory management alleviate risks and keep outcomes on track. EPIGEN and KIS Polymer and composite resins, coatings, linings and compounds have application in mining, water, cryogenic, chimney and many other industries.
Download

PDF
Download: Daniel Leeming sebagai Operations Manager di Peerless Industrial System.pdf
---
News Update – April 2016
Coatings expertise confirmed with NACE CIP 3
Nick Subotsch, Technical Director for Peerless Industrial Coatings, again demonstrated his expertise, adding NACE Coating Inspection Level 3 to his impressive array of achievements.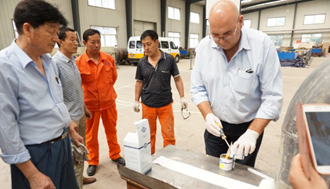 Nick Subotsch sharing his coatings expertise, last year, in China.
The NACE CIP program is the world's most recognized and specified coating inspector program. It trains and verifies coating professional's competency to properly inspect the surface preparation and application of a protective coating system on a variety of structures in any industry.
Download
PDF
Download: Ahli Coating yang terakreditasi oleh NACE CIP 3.pdf
---
News Update – March 2016
EPIGEN KIS – Potable Water AS/NZS 4020:2005 Approved
Peerless Industrial Systems are pleased to advise that Epigen KIS now has Potable Water Approval. (AS/NZS 4020:2005).
KIS is an Elastomeric Jointing & Crack Bridging System manufactured by Peerless Industrial Systems. It is very flexible, stretchy and durable, and bridges the gap on joining applications to increase the ease and durability of construction joining, lining and maintenance.
Application Examples include:
• Lining storage tanks to increase effective control over expansion and contraction in aid of corrosion protection and prevention.
• Sealing joints where a pipe protrudes from a structure.
• Assisting in problem areas of joining, lining and all awkward application issues associated with gaps, cracks and maintenance.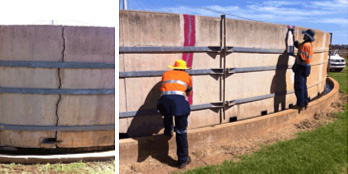 Trickle Filter Asset Refurbishment, before, during repair, and after application of KIS.
For more information, https://www.linkedin.com/pulse/epigen-kis-now-asnzs-40202005-approved-daniel-leeming?trk=prof-post or visit www.kiselastomerics.com
Download
PDF
Download: Epigen KIS telah disetujui oleh pihak yang berwewenang untuk dapat digunakan ke sistem air minum (AS/NZS 4020:2005).pdf

Protective coatings adhesion on damp concrete
The initial results from a study of the adhesion of protective coatings to concrete surfaces were presented at the Australasian Corrosion Association Conference in Adelaide, in November 2015.
In the study, concrete with varying degrees of wetness was coated with solvent, solventless and water dispersed coatings, and their adhesion estimated. Initial indications suggest solventless coatings might perform more than other types of protective coatings and the study is continuing. For a copy of the presentation, please contact the Australasian Corrosion Association or click here to download a pdf of the powerpoint presentation.
Download
PDF
Download: Kerekatan lapisan pelindung pada konkret (beton) basah.pdf

Peerless Technical Expertise affirmed
Nick Subotsch, Technical Director for Peerless Industrial Coatings, is an SSPC Certified Concrete Coatings Inspector, Level 2, affirming the expertise within Peerless for protective coatings.
Download
PDF
Download: Keahlian Teknikal Peerless dikuatkan.pdf
---
News Update – January 2016
Huge time saving in application time
1311 Ultra used at QUU Luggage Point – the project was completed in 20% of the time compared with standard products, and extremely economic.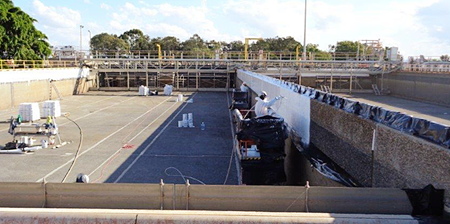 Application of 1311Ultra at QUU Luggage Point.
Sample of core.
Download
PDF
Download: Penghematan waktu yang sangat besar pada proses aplikasi.pdf

Australian First – high build high quality protective coating
Bernie Ripoll, Federal Member for Oxley with Eptec Project Staff at a recent site visit to see first hand an "Australian First" Technology in action – application of 1311Ultra, which provides substantial productivity during coatings application while providing excellent corrosion prevention. 1311 Ultra was developed by Peerless Industrial Systems, an Australian owned and operated manufacturer of protective coatings, with over 60 years experience and exports to more than a dozen countries.
Download

PDF
Download: Australian First – Pertama di Australia – Lapisan pelindung dengan kualitas tinggi.pdf
---
News Update – February 2015
Study on Sewer Manholes and Chambers by local Brisbane contractor. There is a 80% saving in lining costs using Epigen 1311Ultra, and expectation of 500% increase in practical life because of the ease of installation.
---
News Update – November 2014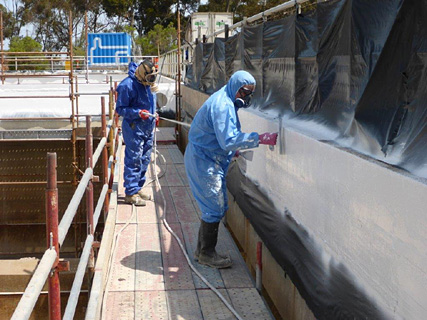 Epigen 1311 Ultra has many advantages over conventional methods.
We have in the past supplied the Epigen 1311 for a long time, but some interesting challenges for all contractors exist on aged assets.
If you can reduce the time works are exposed to contamination, and reduce the duration of site works, with a product that has an anticipated life of 25+ years and is non-sacrifial.
A lot of contractors have had issue coating concrete, new (blow holes) and old (H2S degraded) and in part it is the inability to get reasonable hang from a product to get in and out quickly. Our Epigen 1311 (since 1974) has had a little adjustment so it can be applied over 15mm thick and proving quite the hero product in Queensland in manhole rehabilitation, and currently on the Bolivar WWTP (Sth Australia). Where assessments have been conducted, the economy of productivity and reduction in work time has proved a significant incentive and clear time and cost saving.
1/ Application of 1 sq mt per minute – whether it is 0.5mm or 20mm
2/ Limited downtime
3/ No intercoat adhesion issues
Some people have started to use the Ultra as a blowhole filler, spray on and squeegee at very fast production rates.
ULTRA
The Epigen 1311Ultra was designed for Petronas (R&D Dept) as a one step installation on risers, wharf piles, and other assets that were prone to tide with the ability to prepare and install before the tide turns means that not only is the coating avoiding the common failure, intercoat contamination (compromise life), but the need to coffer dam or take other time expensive options is eliminated.
See the following example carried out on rough concrete to visually make the point. We are now providing Ultra for relining manholes and inspection chambers damaged by H2S.
https://www.youtube.com/watch?feature=player_embedded&v=LeJYtREfsSY"
https://www.youtube.com/watch?v=0FSls0cxTas&feature=player_embedded"
---
News Update – June 2014
On a recent visit to the South Australian Riverland – visiting Robert Formiatti who carries out pump repairs, an old friend called Gary called by to have some work done on his pump. Not so difficult for Robert who is a whiz at these things. Internal lining of Epigen 1311 is now 10 years old and is still in excellent condition. If only the rest of the pump could be made out of Epigen – what would we do then, play golf? How good is that?
---
News Update – December 2013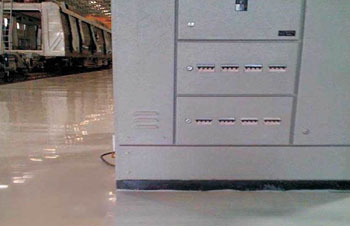 Epigen 1311 continues to astound and be the "Product for ALL occasions".
Dating back over a decade to early 2003, Epigen 1311 made a terrific impact on the market in India as being the "Insulcote", one and only. Marketed in to the Indian Railways, no one can be sure how many people may owe their lives to its use.
Amid the changes in relationships, the attempts to copy, and commercial realities that face any product in a very important market, Epigen 1311 continues to be regarded as the single product that has on its own, the properties to provide protection from electrical leakage in switch rooms, across power boards and other installations.
Recently, Reliance, one of the premier organisations coming out of India have been installing the Epigen 1311 across many of its sites relying on long term integrity and design – no changes, no copies. Simply safe service and dependability.
Pictured above, Nick Subotsch in Delhi, India, with some of the wonderful hosts at Trenchless, http://www.indstt.com
---
News Update – May 2013
Epigen 1311Ultra Part 1: Spray trial on very rough concrete, simulating sewer or manhole. Epigen 1311Ultra is a derivative of Epigen 1311 first released in the early 1970's.
Epigen 1311Ultra Part 2: Spray trial on very rough concrete, simulating sewer or manhole. Epigen 1311Ultra is a derivative of Epigen 1311 first released in the early 1970's. Here it is being trowelled off to even high and low spots then a thin 1mm to ensure sealing is being done. Quick and easy, no recoat issues with contamination or extended downtime.
---
News Update – December 2012
Epigen Phoenix XR367
Peerless Epigen Phoenix XR367 heat resistance demonstrated.
Epigen 1311Ultra
Epigen Ultra1311 is a unique material – can be sprayed with normal equipment to 10mm thick in one shot using 68:1 airless – no hollow spheres to burst, not super fast cure (thermal stress and shrinkage), or the need for it to be semi-cured to achieve the build. Apply wet up to the required thickness with low exotherm and internal stress after cure.
Excellent for tidal zones, sewers, and other applications where the need for a one coat application is beneficial for rapid turn around.
Demo video 1.
Demo video 2.
Demo video 3.
---
News Update – April 2012
Visit – AIP Vietnam
Peerless Industrial Systems was pleased to welcome a visiting party from Vietnam representing AIP, Vietnam Trade Office, Industry and Trade Department of Ha Tinh, and several dignitaries representing significant business interests. Discussions progressed to a very comfortable setting at Sandringham Yacht Club.

New Flooring for Qantas Catering Facility
Congratulations to Kulin (Perth) on the excellent work being carried out at the Qantas Catering facility near Perth's International Airport.
Installing new flooring in the world class catering facility that has to operate 24/7 is a difficult task to manage and Chris Hay, the project manager for Kulins is to be congratulated together with the entire team.
---
News Update – March 2012
www.kiselastomerics.com launched
New elastomeric lining that stretches around odd shapes, excellent for treating field joints in pipelines, and joints with significant movement that are unable to be filled.
KIS Elastomerics preparation.
KIS Elastomerics pipe wrapping.
---
News Update – February 2012
Yongchuan Chimney Project, China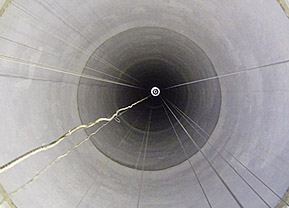 February 10, 2012, Peter Liddle and Nick Subotsch visited Chengdu to congratulate Longquan Anticorrosion on the completion of internal lining on the Yongchuan chimney project. This was a first notable event for the China mainland since it is proven to be a great benefit in the large-scale thermal power plant chimney corrosion projects. The main purpose of the visit of the two experts on the the Yongchuan project was for technical exchange, debriefing and to discuss the experience. Congratulations on the successful completion of the the Yongchuan project came with the Peerless Company awarding a commemorative trophy to show encouragement and praise.
Pictured on the right is the chimney, viewed from the bottom, completed and ready for handover.
---
News Update – November 2011
Yongchuan Chimney Project, China
Peerless was the centre of excellence at the recent Australasian Corrosion Associations hosting of the 18th ICC in Perth.
Pictured here are Roy Orr (Brisbane) & Mark Dixon (Perth) relaxing prior to engaging some 850 visitors to the event.
---
News Update – August 2011
XD005FL
Danchang Bio Power, Thailand.
Following on from the success in Hong Kong with BEC's new Chimney for an Emission Control Project, Surface Pro-Tech (Thailand) has taken its own steps to saving industry costs with lining internals of Stacks to prevent corrosion of the internal faces during condensation of the exhaust. The Danchang Stack (Thailand) is only one of many now completed – all performing faultlessly.
HK Power Station FGD Ducting lined with XD005FL.
BEC (Balanced Engineering & Construction) has its base in Singapore, actually completed significant areas of the FGD Ducting in Hong Kong with the XD005FL, in a very simple and fast one coat application to speed up production.
---
News Update – 5th January 2011
Congratulations to National Champions Sean Keen and Oscar Mitton sailing Sea Ya from ASC with EPIGEN Director Nick Subotsch.
2nd place were Anton and Julian Sasson from SYC, in Samaran.
3rd place Oliver Burnell and Sam Abel from SBSC in Winning Edge.
---
EPIGEN celebrates turning 40, by flying delegates to Water Industry Conference in Bendigo
Garry Baker, Water Manager from Carterton District Council is the second winner of the "Mystery Flight" competition being run by Peerless Industrial Systems to celebrate EPIGEN's 40th birthday.
To win the prize, a flight from New Zealand to Australia, and the opportunity to visit the WIOA Conference, Garry had to answer a range of questions including:
"Which EPIGEN product is most suitable in an acid mixing area? (bund or floor)?"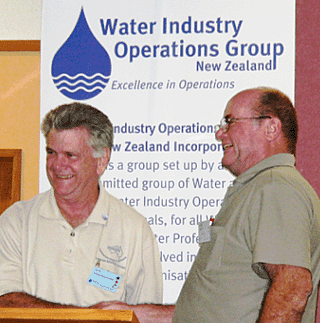 Garry Baker (right) being congratulated by Roy Orr (left) of Peerless Industrial Systems, manufacturers of the EPIGEN range.
To win the next mystery prize, or for more information, visit us at the Water Industry Operators Group Conference in Bendigo.
---
WIOA Bathurst Delegate Wins Trip to Perth for Two
Colin Sheedy of Wingecarribee Shire Council was the winner of the first "Mystery Prize" competition being run by Peerless Industrial Systems to celebrate EPIGEN's 40th birthday.
To win the prize which was a trip for two to Perth with two nights accommodation, Colin had to answer a range of questions including:
"Which EPIGEN product is most suitable in an acid mixing area? (bund or floor)?"
Colin Sheedy (centre) being congratulated by Roy Orr (left) and Mike Clark (right) of Peerless Industrial Systems, manufacturers of the EPIGEN range.
EPIGEN Epoxy Products include coatings for potable water and WWT facilities, grouts and backing compounds, linings for acid and aggressive chemical resistance, process tank linings, non-skid flooring, pump repair and rebuilding materials, turbine and motor chocking grouts, joint sealants, adhesives, metal repair components and fast set repairs.
EPIGEN Epoxy Products have been providing effective and reliable service in Australia and Asia for 40 years.
---
Queensland's New Face
Peerless Industrial Systems has a new face in Queensland. Roy Orr, a local Brisbane resident with significant experience in the Queensland industrial sector has taken the lead role in building sales through service.
Contact: roy@peerlessindustrialsystems.com or on 0411 734 642.
Epigen Qld was the previous service centre. Its role ceased when staff relocated to Western Australia without consideration for continuity of local support through resident staff.
---
Water Industry – Epigen Stars
Adding to the abundant list of Waste Water facilities using Epigen to protect assets, the Merrimac facility on the Gold Coast, through John Holland Group, has Epigen installed.
For more details contact: service@peerlessindustrialsystems.com
---
New Web Address
www.peerlessindustrialsystems.com is live and running. The ranges Epigen and Prolong segregated under this address.
---
Registered Trade Names
Protecting assets is also an important task in business. Tradenames are an often forgotten asset. The following are registered tradenames owned by Peerless Industrial Systems Pty Ltd.
Peerless
Epigen
Chemproof
Prolong (pending)
---
Australasian Corrosion Conference 2005
50th Anniversary
The Australasian Corrosion Conference "2005" is in Perth Western Australia this November and Peerless Industrial Systems has again confirmed it's support as Satchel Sponsor for the event. Conference runs from Sunday 21 November through to Wednesday 24 November. For more information contact: aca@corrosion.com.au or www.corrision.com.au
---
Epigen in Singapore
This year has seen the introduction of a registered office in Singapore. Peerless Insustrial Systems (Sing) Pte., was formerly registered in December 2004 and will be expected to grow and support the market throughout Asia. It is seen as the first step towards a standalone presence in Asia. Contact: singapore@epigen.com.au
---
Goulburn Valley Maintenance Systems
Shepparton, VIC.
Tel: 03 5821 0964
Mob: 0418 577 390
---
Peerless Chemproof – Registered Trade Name
Chemproof, the Epigen Epoxy Novalac polymer so well regarded by the chemical processing industry in its fight against the corrosive effects of acids on concrete and steel, has been accorded Tradename registration. Since 1988, the Chemproof has carved out reputation that is envied and sought after by many.
Chemproof has been quoted as "the industry standard" by many users and has seen service throughout Australia's mineral processing industry, acid plants, smelters, and chemical processors. In the past decade, New Zealand and South East Asia have seen significant quantities of Chemproof employed on a growing number of projects.
Chemproof from Peerless – The Industry Standard. Beware of imitations.
---
Resistabrade
Resistabrade, the newest Polymer Ceramic on the Epigen range is showing signs of making all other products obsolete. The North West of Western Australia and FNQ (Far North Queensland) has been responsible for significant sales and the repeats are coming in hard and fast.
More information at: https://epigen.com.au/Techdata/3773.pdf
---
Peerless Industrial Systems Pty Ltd